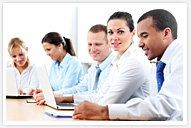 About Us
Founded in 2004 in Toronto, Canada, Technovate is a multi dimensional business communications company. We help our clients clearly communicate their message to their audiences with our 4 established divisions: Technovate Translations, Technovate SEO, Technovate Research and Technovate Media.
We live by excellent customer service and meticulous quality control to build trusting relationships. We have helped 1000's of clients successfully achieve their goals through constant innovation, expansion and growth. We have worked with small and big business, non profits and organizations in various languages and different parts of the world. We work hard to stay ahead of the curve by staying on top of technologies to constantly improve our operations. We are proud of what we have achieved so far, but always strive for more.
We continue to do business with more organizations everyday and are excited to begin working with you. Our mission is to continually become a recognized industry leader through exceptional customer service and unmatched product/service execution. We understand that our clients are our most valuable resource and it reflects in our business practices from inception to the final stages of every project. We look forward to meeting you as we work together towards our ultimate goals. Contact us today to find out more about how we can help you get to where you need to be!