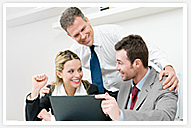 Values
We as a company are committed to driving all of our efforts towards living by our core values every day:
Obsess over clients through Extreme Service
Pursue Growth through Improvement
Be Empowered through Embracing and Driving Change
Create Fun and Excitement
Provide Solutions through Creativity and Open-Mindedness
Strengthen Relationships through Honest Communication
Build a Positive Team and Family Spirit
Do More with Less
Be Passionate and Determined
Adopt a Personal Responsibility to Make Things Better
Our values form the backbone of Technovate that supports all of our successful divisions. As our guiding principles, they ensure that we consistently stay true to what is important to us in all of our business transactions. This helps us relate to you and your business through universal business practices that we can all agree on.